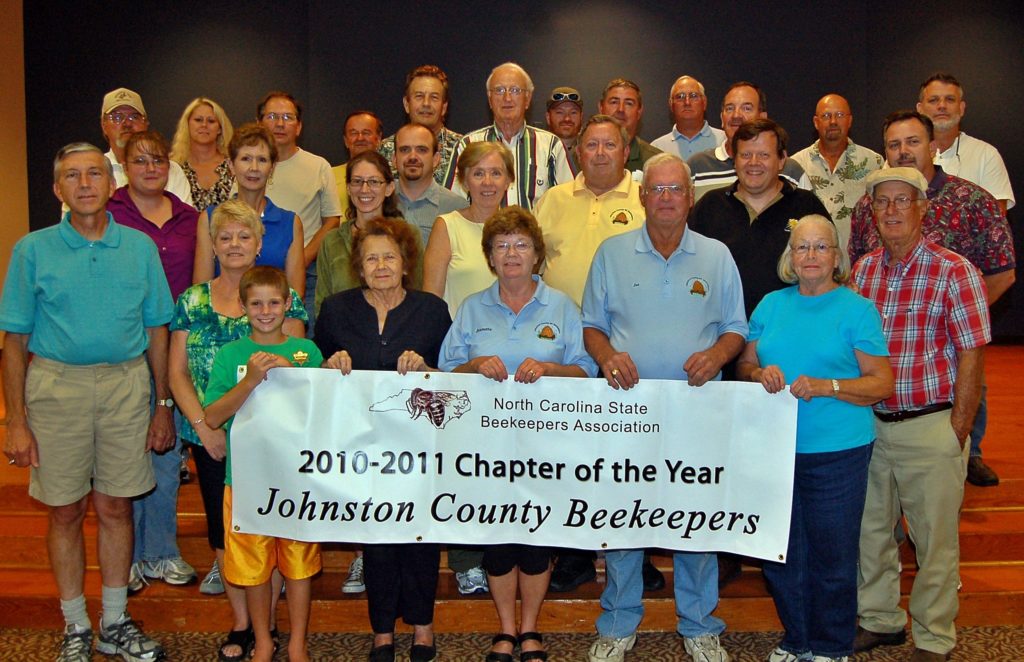 Fellow Beekeepers,
Look forward to seeing everyone at the October meeting. It should be a very informative and fun evening. Hope you all have signed up with Amie and picked a character to play for the murder mystery.
There are slots remaining to help sell honey at the NC beekeepers booth at the State Fair, contact Kim Underhill at if you can help.
The JCBA will be setting up the club booth at the fair on Tuesday Oct. 14. Contact Amie at if you would like to help.
I appreciate everyone who responded to the request for volunteers to serve as officers and board members. The future of the JCBA looks bright as long as folks are willing to help keep the club functioning. Thanks!
I would like to make one more request for a volunteer to serve as secretary.
The executive board has talked about moving toward a better system to keep electronic records in the future, although no final decisions have been made at present. If there is anyone in the club who has experience with word processing/spread sheet software, editing and general computer knowledge it would be a great opportunity to be involved in helping to develop the system for the JCBA.
We really need your help!
Nominations for officer and board member positions will be presented at the October meeting and sent out by email.
Regards,
Chip Braswell
President JCBA
---
---
Equipment:
Continue to check on equipment in storage for wax moth damage
Tasks
Not much work except to keep an eye on your hive
Place entrance reducers in the entrance
Check each colony for a laying queen
Combine weak hives
Leave one shallow super completely full of honey plus the honey in the brood chambers
Prepare hive for winter
Damage control

Strap down hive tops

Prevent wind or wildlife damage
Hive:
Feed

Continue to check hive weight
Leave one shallow super completely full of honey
Leave the honey in the brood chambers
Feed all colonies that don't have a least 40 pounds of honey stored

A deep super or brood frame holds 6 pounds of honey

Completely filled will hold 60 – 80 pounds of honey
A shallow super frame holds 2 ½ pounds of honey

Completely filled will hold 25 – 30 pounds of honey

Feed a mixture of 2:1 sugar syrup

Beware of robbing
2 gallons using a top feeder
Medicate with Fumagilin-B if needed

Frame placement

Make sure upper chamber frames are have open comb in the center

Used for spring broodnest expansion and clustering
Need honey and pollen in the bottom brood chamber
Make sure no capped brood or empty cells are located within the cluster

Install

Inner cover wedges for ventilation

Place under the back of the cover
Mouse guard at hive entrance

Entrance cleats restrict mice

Insulation boards under hive cover
Set up wind break if necessary

Bees in winter

Large hive will not die from cold weather

They can survive extremely cold weather
Stay warm by clustering
Temperature in the hive is only warm within the cluster

Don't warm up the entire hive

Moisture in winter hives

Moisture can develop within the hive
Bees give off moisture
Moisture gathers above them

It can then drop down onto the cluster
This is what can kill bees in the winter
Can survive cold but not wet and cold
Moisture not a problem in the summer

Moisture prevention

Don't let water condensation develop within the hive
Use fully opened screen bottom boards

Don't cover or restrict bottom boards in winter
Allows enough ventilation within the hive to alleviate moisture build up
No need to wrap hives for winter in the South
Don't allow gaps near the top cover
---