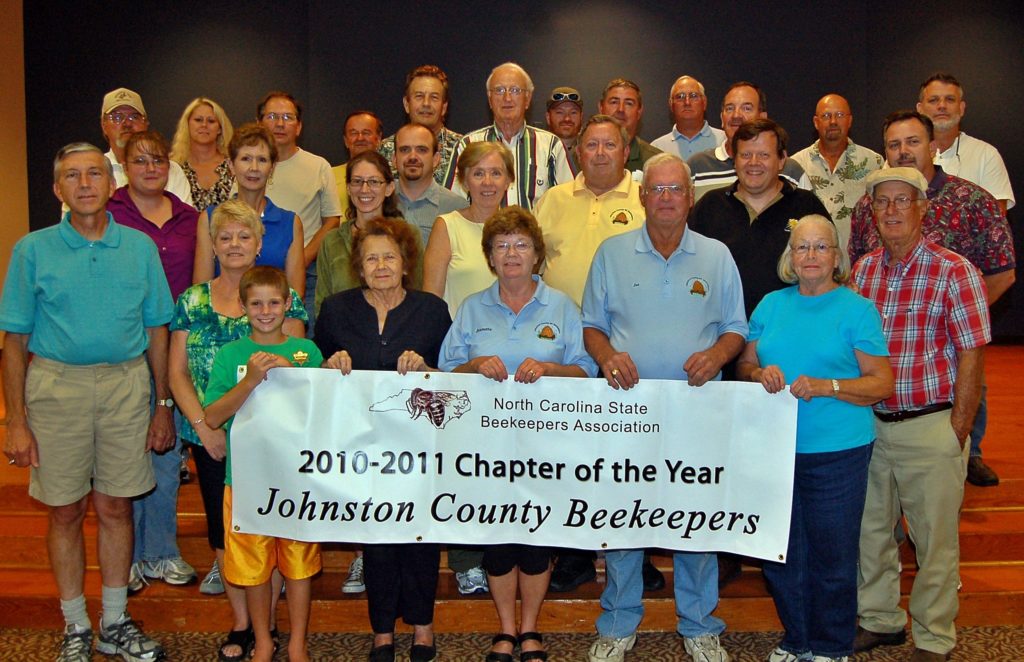 Fellow Beekeepers,
 
The monthly beekeeper meeting will be Monday, September 15 at the Ag Center.
JCBA member Tom Underhill will demonstrate how to make lip balm.
 
Our club will have a booth at the State Fair. Fair dates are October 16-26.
The theme will be:
"What does it take to get started in beekeeping"
Volunteers will be needed planning the booth content and layout.
Help will also be needed setting up the booth on October 15 and taking down October 27.
Please contact Amie at   if you can help.
This theme is a great, original idea by Amie and it should make for a very informational booth.
 
Best Regards,
---
Hi everyone,
I'm inviting you to participate in our next upcoming beekeeping webinar on 
Monday September 15th
 (see logon details below). Please disseminate and share this invitation to everyone and anyone who might be interested!
The topic for the session is What I did this summer: ongoing research in the NC State Apiculture Program. Many thanks to the Durham County Beekeepers for hosting. A full list of our beekeeping webinars, including recordings to past webinars, can be found on our website athttp://entomology.ces.ncsu.edu/apiculture/beekeeping-webinars/.
Many of you have already expressed your interest in attending the webinar, so please use this information from the Collaborate system to log on and join. So far, we several clubs who will be joining, but let me know if you or your chapter would like to take part!
I look forward to this next webinar, but in the meantime let me know if you have any questions! Sincerely, David
***********************************
The session starts Monday, September 15, 2014, 6:30pm and ends 8:30pm.
You may join the session up to 30 minutes early.
Click here to join the session:
https://collaborate.wolfware.ncsu.edu/join/?join_session_id=Ct0u4YWW31E
==========================
Teleconferencing Number
Use this number to participate by phone if you cannot successfully connect to our session on your computer or mobile device.
571-392-7703 PIN: 361 818 741 621
==========================
==========================
First Time Users:
==========================
Configure your computer (or mobile device) 24 hours in advance of this session.
Using a desktop machine? Complete all steps outlined on the Configuration Page.
http://go.ncsu.edu/configuration
Using an iPhone or iPad? Get the free Blackboard Collaborate app:
https://itunes.apple.com/us/app/blackboard-collaborate-mobile/id546742528?mt=8
Using an Android device? Get the free Blackboard Collaborate app:
https://play.google.com/store/apps/details?id=com.bbcollaborate.collaborate
Technical Support is available 24/7 at
(877) 382-2293, option 1
******************************
David R. Tarpy
Professor and Extension Apiculturist
Department of Entomology, Campus Box 7613
North Carolina State University
Raleigh, NC  27695-7613
TEL: (919) 515-1660
FAX: (919) 515-7746
LAB: (919) 513-7702
WEB: http://entomology.ces.ncsu.edu/profile/david-tarpy/
EMAIL: 
************
Join the new Beekeeper Education & Engagement System (BEES)
Like us on FaceBook
Follow us on Twitter (@NCSUApiculture)
---
Equipment:
Remove and store under fumigation all empty supers of comb
Replace all hive parts that need repairing or painting with reconditioned parts

Better accomplished in shop
Tasks:
Re-queen

Colonies not done in August
Colonies which rejected the introduced queen

Check for the queen's presence in all hives
Hive:
Consolidate frames so set up some empty space for storage of fall nectar flow

Fill supers with capped frames
Rearrange partially filled supers with empty frames

Empty frames in the center with filled and capped frames outside

Harvest honey crop

Only excess that will not be needed by bees for winter

Leave 40 – 60 pounds of honey for winter storage
Final harvest for the season

Feed

Until bees will not take any more syrup
Check hive weight
Contiune feeding all light colonies

Swarm

Check for fall swarm preparations
Cut out all queen cells
Cage the queen for about 1 week then re-release her
Recheck all re-queened hives

Reduce hive entrance to small hole
Bottom hive body needs to contain brood
Reverse if necessary
---
Free marketing website where you can list your farmer's market, agritourism, on farm sales (local honey, pick your own, etc…).  They need more agricultural related businesses to sign up so they can open the site.
Dear All:
I received information from USDA that they have developed a local food directory to help farmers who have a stand, store, or other direct-to-consumer retail outlet on the farm to be found more easily. USDA wants to raise awareness of this resource. Details can be found here:
For questions, people can call: 202.690.1327 or send an email to 
Annette B Dunlap, MBA
Food Business Specialist/Agribusiness Developer
---
---