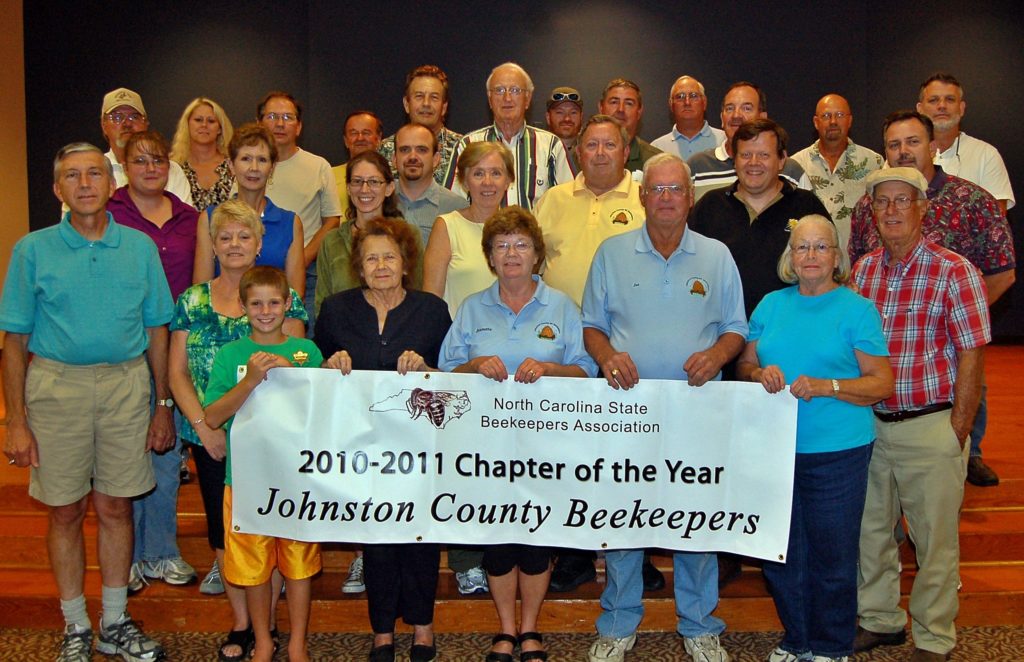 Fellow Beekeepers,
Our regular monthly meeting will be held at 7 PM Monday January 19 at the Ag Center in Smithfield.
See attached January Newsletter for the meeting agenda.
Included in the newsletter is an obituary and service arrangements for Dr. Ambrose.
There is also a wealth of additional information in the newsletter including monthly meeting topics scheduled to date.
Cake, ice cream and drinks will be provided at the January meeting. Any additional contribution of snacks by members would be appreciated.
Hope to see everyone at the meeting.

Chip Braswell
JCBA President
---
Hi everyone,
Happy new year to all from the NC State Apiculture Program! You can now access our latest issue of the our program's newsletter, the Wolfpack's Waggle, which can also be found as usual through:
http://entomology.ces.ncsu.edu/apiculture/wolfpacks-waggle-newsletter/
The beginning of a new year always brings reflection about the previous. We've had another successful year, with six peer-reviewed publications and 21 presentations at scientific meetings. We have 10 active grants totaling $1.4M, and we have more people in the program than ever at 21. This past year saw the addition of several new postdocs in the lab, both of whom have been stellar additions to our group so far. Holden Appler graduated this past year with his MS degree, and we eagerly anticipate the publication of his two (and possibly four) manuscripts on the effects of urbanization on honey bee immunology and disease. On the extension side, collectively we delivered! ~30 pres entations and workshops to various beekeeper groups for ~6,000 individual contacts, and we were covered by 12 media stories on our work. New courses on our BEES network continue to be on hold until the migration to the DELTA server is finalized (see page 2), but we hope it will once again gain some traction. Overall, 2014 was a great year, and we hope the same for 2015!
Also, don't forget the upcoming Beekeeping Webinar on January 15th! Many thanks to the Chatham County Beekeepers for hosting virtually. The topic for the session is very appropriate for the upcoming bee-school season—What aspiring beekeepers really need to know: discussions among beekeepers. Winter is the best time for the new beekeeper to do everything s/he can to get ready for the upcoming spring, and we will hold a fairly open discussion where everyone can share their own experience and expertise. More information can always be found at:
http://entomology.ces.ncsu.edu/apiculture/beek! eeping-we binars/
Thanks, as always, and please let me know if you have any questions! Sincerely, David
******************************
David R. Tarpy
Associate Professor and Extension Apiculturist
Department of Entomology, Campus Box 7613
North Carolina State University
Raleigh, NC 27695-7613
TEL: (919) 515-1660
FAX: (919) 515-7746
LAB: (919) 513-7702
WEB: http://entomology.ces.ncsu.edu/profile/david-tarpy/
EMAIL: david_tarpy@ncsu.edu
************
Join the new Beekeeper Education & Engagement System (BEES)
Like us on FaceBook
Follow us on Twitter (@NCSUApiculture)
---
The Johnston County Cooperative Extension Service is pleased to announce the 2015 Beginning Beekeeping Workshop. If you have any questions please contact Amie Newsome at amie_newsome@ncsu.edu or 919-989-5486. To register for the course then contact Phyllis Croom at pbcroom@ncsu.edu or 919-989-5380.
Click here for more information.
---