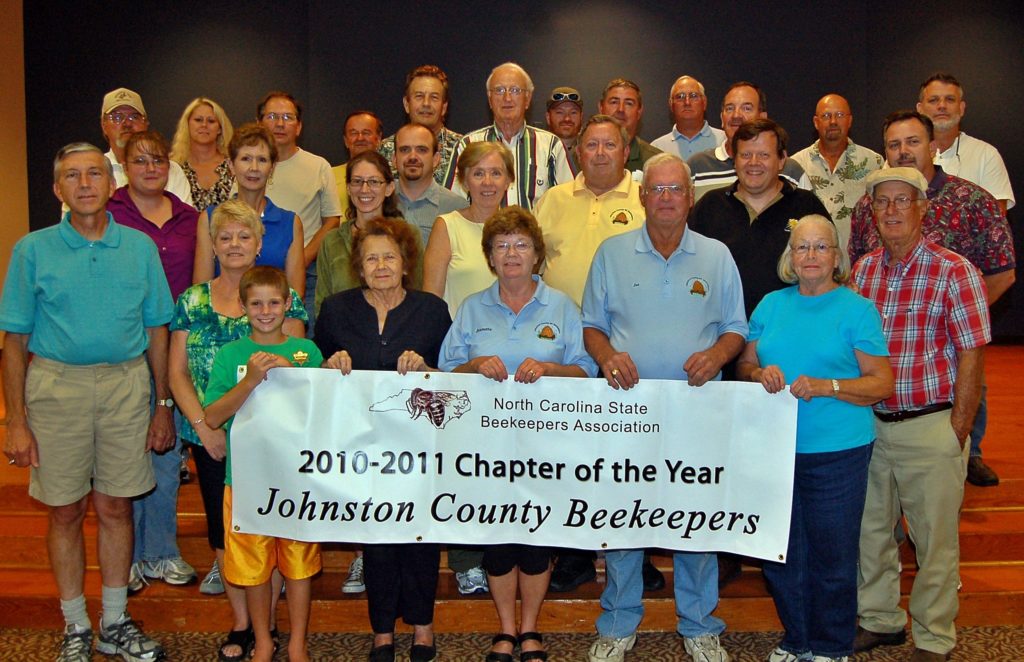 2013-05-20 14:25:51
Four Oaks is determined to put a honey bee ordinance in effect at the next meeting (June 10, 2013 @ 7:30pm). The one they presented at the last meeting was very stringent.  It would have to have all landowners within 450 ft. radius agree to allow anyone to keep bees.
As Dr. Ambrose recommended, they may go and modify Cary's.  Sherry (town clerk) called me and said Cary's allows from 1 to max of 3 hives per lot, based on the size of the lot.  When I Googled Cary's honeybee ordinance, the ordinance it came up with was 2 hive to 8 hive maximum – and that's what Charles Heatherly said Cary went with.
So, I believe they will present the 1-3 hive range at the June 10th town council meeting. It is an open forum for public comment, so anyone (even people in another town and county) may speak for or against the ordinance and for no ordinance.
So, if anyone would like to show up at the Four Oaks town meeting, they are welcome to show up and speak, or just show up.It is at 304 N. Main Street, Four Oaks, NC on June 10, 2013 @ 7:30 pm. If people would like more information, they can email me at alhildreth@embarqmail.,com
Thanks,
– Al Hildreth
Posted in:
Blog
Home Page
Read more...
0 comments
---
2013-05-20 14:20:41
June 8- Saturday 9am – 1pm
Swarm Out Session:
Queen Rearing Demo with Rick Coor of Spring Bank Bee Farm
- Hosted by Tom & Kim Underhill of Big Oak Apiary of Raleigh, of John 15:5 Farm located at 2633 Branch Road in Raleigh, NC 27610
- Rick will be here in Raleigh, demonstrating techniques of Queen Rearing, grafting, processing, and all the steps in between required to raise your own quality queens.
- Rick is a pillar of the Bee Keeping Community and has invaluable knowledge to share. Rick believes and lives by paying it forward. He makes all efforts to help, mentor and assist bee keepers of all levels to further their bee keeping education, techniques, and experiences.
-Cost: $10.00 per person – with the proceeds to be donated to Dr. Tarpy's Bee Research Lab.
- Register by emailing Tom & Kim Underhill: 
- Cash only please
Posted in:
Blog
Home Page
Read more...
0 comments
---
2013-05-10 16:00:21
Johnston County Beekeeper's Association Meeting Announcement 
Date: May 20, 2013
Time: 7:00 pm – 9:00 pm
Location: Johnston County Agricultural Center (2736 NC Highway 210, Smithfield, NC 27577)
Speaker: Amie Newsome; Commercial Horticultural Extension Agent for Johnston County
Topic: "The Mother of All Bees"
Description: In honor of mothers every where, this months meeting will be all about the Queen Bee herself.
Special Notes: This event is free and open to the public.  We hope that you can make it.
Contact: Amie Newsome with Johnston County Cooperative Extension Service for more information at  or 919-989-5380
Posted in:
Blog
Home Page
Read more...
0 comments
---
2013-05-10 15:58:53
The Chatham County Center of North Carolina Cooperative Extension will offer a Hands-on Queen Rearing Workshop for Beekeepers from 10:00 am-3:00 pm on Saturday June 1 in the auditorium of the Agriculture Building in Pittsboro.
The workshop will be repeated on Monday June 3 so participants can choose the date that best suits them.
This is a hands-on workshop so class size is restricted to 25 participants for each session. Each step of the process will be demonstrated in the bee yard and participants will have an opportunity to practice grafting. Register early to reserve your space.
The workshops will be taught by North Carolina State University Apiculture Technician Jennifer Keller. There are many benefits to raising your own queens: you will always have one on hand when you need it, you can save money, and you can pick whatever characteristics are important to you and breed to that.
This workshop is for beekeepers who understand the basic principles of queen rearing and want an intensive hands-on experience.
Details are on Cooperative Extension's Growing Small Farms website at http://go.ncsu.edu/gsfworkshops
The deadline for registration is May 29, but the workshop is likely to fill up so don't wait until the last minute to register!
Posted in:
Blog
Home Page
Read more...
0 comments
---
2013-05-07 12:41:32
Equipment:
Capture swarms

Have extra equipment on hand
Empty hives

Be prepared to collect your own swarms
Tasks:
Bees swarm in May!  BE AWARE!!!!!

Way for honey bees to multiply
Does not mean you are a bad beekeeper
Bees swarm, it is in their nature

Implement a swarm control strategy

Important steps for trying to prevent a swarm
Must provide room for hive to expand

Swarms can happen throughout the spring and summer
Beware of swarm preparation signs

Queen grows smaller in size
Slows egg laying down significantly

Check for swarm cells

Continuously every week or so
Remove any swarm cells found
Hive:
Honey super management

Honey supers should be added by May 1st

Put on as many as you want

Good practice to have two

Sometimes three or four are needed

Check supers before you add
Move less full frames from the outside of honey super to the center

Bees fill frames from the center out
This will allow for more frames of honey to be filled quicker

Add a super when 6 – 7 frames are filled

1/2 – 2/3 frames filled with honey

Place the new super under the partially full one

Place on top of hive body full of brood
Place partially filled super on top of the new empty super

Don't wait to add supers

May miss some nectar flow

Check hive body

If suspect a problem look at brood laying patter of queen during honey flow
Posted in:
Blog
Home Page
Read more...
0 comments
---