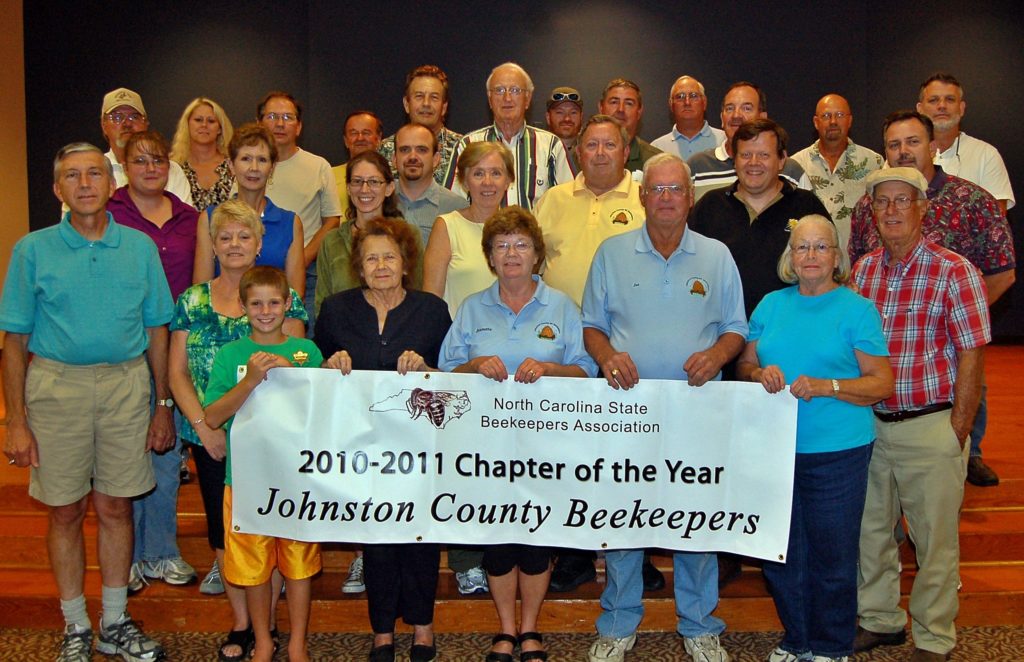 Our fall regions testing for Journeyman and Master Beekeepers are set.
Test at each location is at 10 am.
The date and locations are:
Piedmont Region, October 3, 2015 at NC Cooperative Extension Ctr.
Chatham County Center
65 East Chatham St.
Pittsboro, NC 27312
Mountain Region, October 24,2015 at Mountain Horticultural Crops
Research and Extension Center
455 Research Drive
Mills River, NC 28759
Coastal Region, October 31, 2015 at NC Cooperative Ext.
Pitt County Center
403 Government Circle, Suite 2
Greenville, NC 27834
Any NCSBA member wishing to test for Journeyman or Master may attend.
There is no charge for testing.
Signup not required, but if you plan to attend email me at
.
---
Just a reminder that our next beekeeping webinar is 
Monday, September 14th

starting at

7:00 pm EST
 (logon details below). Please disseminate and share this invitation to everyone and anyone who might be interested!
The fall webinar has traditionally focused on some of the research projects that the NC State Apiculture Program has been involved in over the last year. This year, rather than giving a brief overview of all of our ongoing research, I thought we might pick just one and go into a bit more depth. As such, the topic for the session is 
Feral and managed bees in rural and urban habitats
. This will cover some of the research that some grad students, postdocs, and undergrads in the lab have been conducting for a number of years, and it addresses some insights about bee biology and backyard beekeeping.
Many thanks to the Surry County Beekeepers for hosting. A full list of our beekeeping webinars can be found on our website at:
http://entomology.ces.ncsu.edu/apiculture/beekeeping-webinars
/
Many of you have already expressed your interest in attending the webinar, so please use this information from the Collaborate system to log on and join. So far, we several clubs who will be joining, but let me know if you or your chapter would like to take part!
I look forward to this next webinar, but in the meantime let me know if you have any questions and happy new year! Sincerely, David
*****************************
Hello. You are invited to join the Collaborate session "Surry County Beekeepers
09-14-15
" by .
The session starts
Monday, September 14, 2015, 7:00pm
and ends
9:00pm
.
You may join the session up to 30 minutes early.
Click here to join the session:
==========================
Teleconferencing Number
Use this number to participate by phone if you cannot successfully connect to our session on your computer or mobile device.
==========================
==========================
First Time Users:
==========================
Configure your computer (or mobile device) 24 hours in advance of this session.
Using a desktop machine? Complete all steps outlined on the Configuration Page.
Using an iPhone or iPad? Get the free Blackboard Collaborate app:
Using an Android device? Get the free Blackboard Collaborate app:
Technical Support is available 24/7 at
******************************
David R. Tarpy
Professor and Extension Apiculturist
Department of Entomology, Campus Box 7613
North Carolina State University
Raleigh, NC  27695-7613
EMAIL:
************
Join the new Beekeeper Education & Engagement System (BEES)Like us on FaceBook
---
On Monday August 17th, 2015 I spoke to an inquisitive group of 6 year olds at the Mt. Zion Methodist Church on Rt. 50 in Garner at the invitation of Daisy Troop Leaders Christy Hamilton and Christie Coleman. Thirteen Daisy Troop girls sat around a project table where they colored and participated in learning about honeybees.  I knew that to bring the girls into the conversation I had to ask a lot of questions to set up a baseline for the material I would cover.  The night before, I had created a lesson plan that I hoped I could use at the troop talk.  Show and Tell was very effective. I brought a teaching hive with pictoral frames of a live hive, a smoker, leather gloves, plastic life cycle stages of bees to pass around, a hat veil (which seemed to be a big hit with the girls) honey samples in tiny teddy bears to give out, honey oatmeal cookies I made from scratch,  samples of wax candles, wax shapes, soap, and jars of honey, a heavy frame of capped honey, recipe pamplets for parents and of course the posters I created to stimulate questions.  I must say I was really impressed at how much the girls understood about bees and how much they learned.  One young lady told me at the beginning she hated bees because she was stung once by a bee. I told her that I hoped to change her mind about honeybees after my presentation.
I came dressed as a honey bee complete with body suit, wings and antennae.  I was overheating but a superhero never lets their audience down so I pushed forward.  I began talking about why I was "Super Bee".  I didn't get the "bad guys" but I saved the bees. Why did that make me a superhero and why was that important? Because bees help Farmers grow the food that feeds all of North Carolina and all the country. I told them about the important role bees play in pollination on farms everywhere and how the food we eat comes from the help of bees.  If bees didn't visit the flowers of fruits and vegetables, we would have empty supermarket shelves and even the animals wouldn't have clover, or corn or other things they need to eat.  I then talked about things we can do with honey and wax and what we can all do to save the bees.  I covered the life cycle and jobs of the 3 castes of bees.  They had to guess how many eyes a bee has.  I explained what the eyes look for. I would ask questions and hands would go up and I loved to hear how their minds were working to understand these interesting insects.  I also told them the harsh reality that bees all over the world are dying so supporting the local beekeeper and local honey was super important.  Beekeepers are trying to save the bees. The troop can help too. I asked them not to spray bees, not to be rough around bees and that if they see a bee, don't panic: either let them sniff you or walk away slowly. Bees are curious looking for flowers and if you aren't a flower, they will quickly move on. I had the girl's attention for a full hour at which time it was snack time and time for the projects their troop leaders had brought in about pollination. The troop leaders were very supportive and made their pollination project fun for the girls.  The girls had to pretend they were bees visiting a flower.(A sippy straw in a juice box covered with a flower.)  Their hands had cheetos powder on their fingers and as they touched the other flowers the orange color transfered to the flower just like what bees do. I thought that was a brilliant idea. Oh, and yes, the young lady who hated bees at the beginning now understood bees are really gentle. She may even learn to like them now.
---